To The End Of The Age
 (Matthew 28:16-20)
November 5, 2023
How good are you at doing what you are told to do?
I don't know about you but for me, sometimes it depends on who's doing the telling.
Growing up in a single family home, my mom was the ruling authority, and for the most part we listened to her.
But when I went to my grandmother's house…you better believe I did what she told me to do.
My grandma was just one of those lady's who, when she spoke you better listen.
I remember my uncle telling us of the time he did something and got in trouble.
So, my grandma was going to discipline him.
She was going to discipline him, like she did me and my brother and sister, like most everyone disciplined their children back then, my uncle was going to get a whoopin'.
Now a whoopin is a lot different that a paddling, or a spanking.
A whoopin was something you didn't forget soon.
Now, when my uncle was younger my grandmother used to send my mom and him out to get their own switch so she could use it on them.
How many of yall no what a switch is?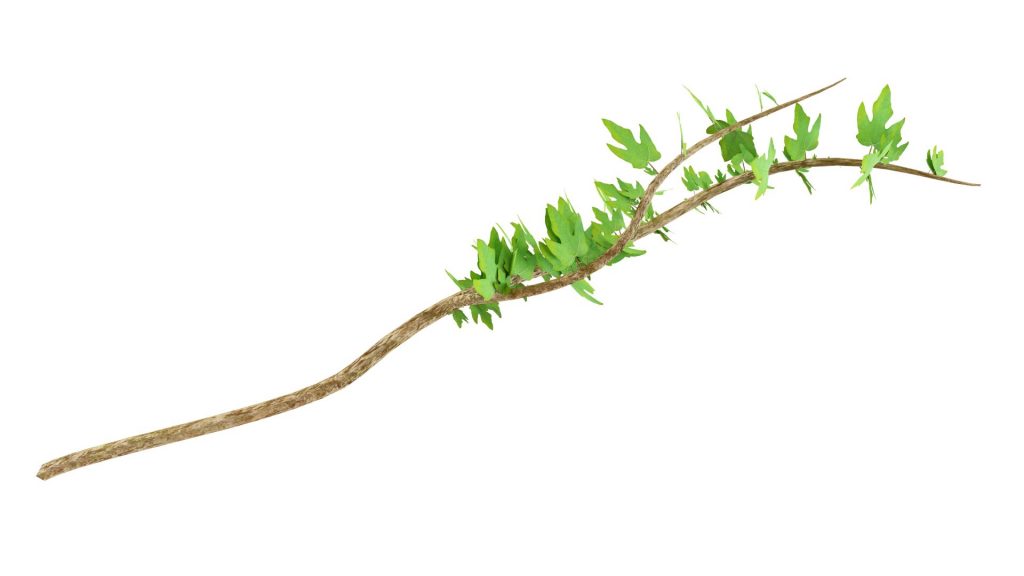 Now that is just a regular old switch, my grandma and my mom preferred the King Switch.
So, my grandma sent my uncle to fetch his own switch so she could whoop em with it.
My uncle, who I wish yall knew, but he's a little bit, no I take that back, he is a lot honory.
My uncle comes drag back to the house an entire tree limb, hoping to gain some kind of compassion from my grandma. 
I mean just picture this little fella, carrying back an entire tree limb, it just melts your heart doesn't it.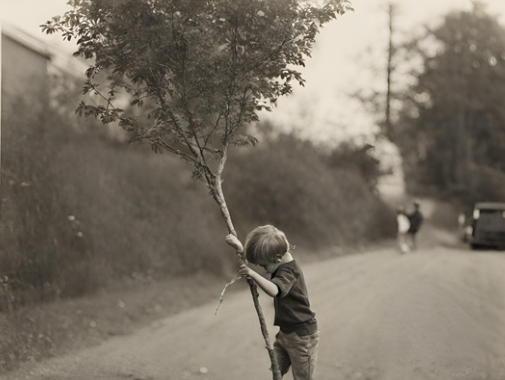 Well, my grandma came out and looked at the limb and looked at him
And, well she whooped him with every switch she could get off that limb.
So, how good are you at doing what you are told to do? 
Does it matters who is telling you to do it?
What if it is Jesus telling you what to do?
Would that matter more?
Throughout the account of Jesus' death and resurrection there are a whole lot of examples of people telling other people what to do and what not to do.
The religious leaders come to Pilate and tell him that Jesus had said that after he died 3 days later he would rise again. So they asked Pilate to place a guard at the tomb.
Matthew 27:65-66
"Take a guard," Pilate answered. "Go, make the tomb as secure as you know how." 66 So they went and made the tomb secure by putting a seal on the stone and posting the guard.
They did as they were told.
Mary Magdalene and the other Mary went to the tomb after the Sabbath.
There was an earthquake, because an angel rolled the stone away from the tomb and sat on it.
The angel said to the Mary's in
Matthew 28:5-7
The angel said to the women, "Do not be afraid, for I know that you are looking for Jesus, who was crucified. 6 He is not here; he has risen, just as he said. Come and see the place where he lay. 7 Then go quickly and tell his disciples: 'He has risen from the dead and is going ahead of you into Galilee. There you will see him.' Now I have told you."
The women do what they are told to do.
Some of the guard go to the priests to tell them about the miraculous events they have witnessed.
The guards are told to say his disciples stole the body and they are paid off.
The guards take the money and do as they are instructed.
The Mary's are on their way to the disciples when all of a sudden Jesus shows up.
He greeted them and they worshipped him.
Matthew 28:10
Then Jesus said to them, "Do not be afraid. Go and tell my brothers to go to Galilee; there they will see me."
So, the Mary's take the story to the disciples and they head out to Galilee.
In this closing scene from Matthew's gospel, we are clearly told by a trusted source what to do: 
Matthew 28:16-20
Then the eleven disciples went to Galilee, to the mountain where Jesus had told them to go. 17 When they saw him, they worshiped him; but some doubted. 18 Then Jesus came to them and said, "All authority in heaven and on earth has been given to me. 19 Therefore go and make disciples of all nations, baptizing them in the name of the Father and of the Son and of the Holy Spirit, 20 and teaching them to obey everything I have commanded you. And surely I am with you always, to the very end of the age."
WALKING WITH JESUS MEANS DOING WHAT HE TELLS US TO DO.
Many of you are familiar with this passage as the Great Commission
The Great Commission is where we as the Church, receive our marching orders.
It is our mission from Jesus as His people, His Church in the world.
If someone were to ask us, "What are we supposed to do as Jesus' Church?" This Great Commission is our response.
If someone were to ask us, "Why do we support missionaries, send missionaries, and go on mission trips?" This Great Commission is our response.
If someone were to ask us, "Why do we make such a big deal about this word discipleship?
What is discipleship and why does that matter?" This Great Commission is our response.
The way we say it here at MACC is: Transforming People to Christ-likeness, this text is that much of a fixture of our faith in action.
But did you know, that this Great Commission does not stand on its own?
As it is with every text of Holy Scripture, this Great Commission is not given to us without a context.
In context, not only is The Great Commission the summation and conclusion of Matthew's Gospel, but it is also the climax of the Easter story!
Now that's an odd statement to make, right.
What do I mean that "The Great Commission is the climax of the Easter story?"
I mean, isn't the resurrection event the climax of the Easter story?
The angel…the stone rolled away…the empty tomb…?
Isn't that all there is to Easter?
We celebrated Easter nearly 7 months ago, some of you are thinking, we haven't even made it through Thanksgiving or Christmas and here you are talking about Easter.
Easters done.
Jesus' resurrection means something for us as we sit here today.
And if we learned anything at all from Jesus' teaching in The Sermon on the Mount, He is not going to leave us without a call to action.
Faith is not merely hearing what has been spoken.
Faith is doing based on what has been heard.
The Great Commission is the fulfillment of the promises of Easter.
The location of the instructions, a mountaintop, underscores the importance of obeying the instructions.
Mountains in Matthew's Gospel are places where Jesus' authoritative teaching and divine identity are revealed.
They include the mountain in the temptation where Jesus rejects false authority (Matthew 4:8)
The mount on which Jesus teaches with authority (Matthew 5:1)
The mountain on which the feeding of the four thousand occurs (Matthew 15:29)
And the mountain of the Transfiguration (Matthew 17:1).
So, what does Jesus tell us to do?
First,
JESUS SAYS GO MAKE DISCIPLES
Notice that he doesn't say, "Go convert all nations."
Our goal is not to convert people so that they say, "I believe in Jesus, and I want to give him my life."
Our goal is to make them disciples.
A disciple is a student or follower.
He is speaking to his disciples and telling them to make more disciples.
Make more people just like you.
They need to follow me as you have followed me.
They need to be trained by you as I trained you.
They need to make more disciples like you are doing.
This is going to lead to multiplication and transformation.
Where are they supposed to go to make disciples?
What is the extent of this mission?
Notice that Jesus opens it up to people beyond the Jews.
He says to "make disciples of all nations."
Their work sounds too big for them ever to get bored.
It is a job that will never end.
They are constantly supposed to learn how to make disciples of all nations.
And listen folks, when you surrender your life to Jesus, it is no longer an option, you are to be a disciple making disciples.
You are to be a transformed person transforming people.
This means that Jesus' church will be mixed bag of nuts.
We aren't all going to be alike.
We have different backgrounds, cultural impressions, and opinions about how some things should be.
But Jesus is where we all find our similarities.
Jesus tells us to make disciples.
Now,
HE SAYS BAPTIZE
If you are a believer in Christ, you should be baptized.
If you are not a believer, then you should not be baptized.
The primary reason for a believer to be baptized is obedience to Christ.
If Jesus commanded the apostles to make disciples and baptize them, it only stands to reason that a disciple should be willing to submit to baptism.
It does not make sense for a person to claim to be a disciple and then object to the first thing mentioned by Jesus in conjunction with being a disciple.
That would be akin to a disciple refusing to be taught all the things that Jesus commanded so that he might obey them.
Water baptism, as a ritual, does not save anyone.
Neither does the obedience required to submit to baptism.
Baptism is a public proclamation of your obedient surrender to Christ.
Baptism pictures the washing away of sin and also the death, burial, and resurrection of Christ on behalf of the believer.
Baptism shows the believer's identification with Christ.
In first-century Judaism, baptism was only performed on Gentiles who were converting to Judaism.
When John started baptizing Jews, they were admitting that, because of their sin, they were no better off than Gentiles.
They, like the Gentiles, needed to repent.
This is why John responds to the religious leaders who were not being baptized in
Matthew 3:9-10
And do not think you can say to yourselves, 'We have Abraham as our father.' I tell you that out of these stones God can raise up children for Abraham. The ax is already at the root of the trees, and every tree that does not produce good fruit will be cut down and thrown into the fire.
The religious leaders were at least in part relying upon their Jewish heritage to save them, but John tells them that their heritage was of no importance.
John's baptism was a public declaration of one's sin and need to repent in view of the coming of Christ.
In the early church, baptism soon became the way that a person was identified as a true believer.
If a person was casually connected with Christians or a church, but not baptized, no one considered him to be a Christian.
When he was baptized, he was considered part of the church.
If he was Jewish, he was often cut off from his family and synagogue, and in the Roman Empire, this was when persecution might really start as well.
Baptism does not make a person a Christian, but it publicly identifies one as a Christian and opens one up to persecution in many cultures even today.
As Christians we often forget there is a tangible cost to embracing the gospel.
Sure we might lose a friend here or there.
We might even lose our professional standing.
How about our entire family?
All of our other social connections?
Even life itself?
That's the dilemma Muslims face when confronted with the choice of embracing the cross, Jesus, and the gospel.
It's a dilemma illustrated authentically and poignantly by Muslim-turned-Christian Nabeel Qureshi in his book Seeking Allah, Finding Jesus.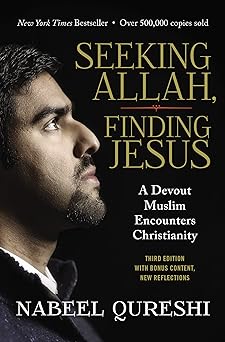 Let me share his words with you today:
So, in obedience to Christ, a believer should be baptized.
The believer's baptism is a picture of the washing away of sins, the believer's death and resurrection with Christ, and the believer's public identification as a Christian.
The cost for a Muslim to accept the gospel can be tremendous. Of course, following Jesus meant that I would immediately be ostracized from my community. For all devout Muslims, it means sacrificing the friendships and social connections that they have built from childhood. It could mean being rejected by one's parents, siblings, spouse, and children.

If there were traits my family was known for in the Muslim community, they were my parents' joyfulness, our close-knit relationships, and the honor we had garnered by faithfully following Islam. My choice to follow Jesus meant razing all three. My decision would shame my family with incredible dishonor. Even if I were right about Jesus, could I do such a terrible thing to my family? After everything they had done for me.

These are the costs Muslims must calculate when considering the gospel: losing the relationships they have built in this life, potentially losing this life itself, and if they are wrong, losing their afterlife in paradise. It is no understatement to say that Muslims often risk everything to embrace the cross.

But then again, it is the cross. There is a reason Jesus said, "Whoever wants to be my disciple must deny themselves and take up their cross and follow me. For whoever wants to save their life will lose it, but whoever loses their life for me and for the gospel will save it" (Mark 8:34 – 35)…

Nabeel Qureshi
Jesus tells us to make disciples.
HE SAYS BAPTIZE
Now,
HE SAYS TO TEACH THEM TO OBEY EVERYTHING I HAVE COMMANDED YOU
Everything Jesus commanded?
That's a lot!
It's far too much to put in a brochure.
In fact, we're not asked to merely inform people but teach them so they can obey.
Disciple-making is a long-term commitment of taking Jesus' teaching in one hand, your relationship with the new disciple in the other hand, and working out what it all looks like in your real life and community.
In other words, this step of the process is going to take the rest of our lives.
There's no "check the box" option, and it's not a drive-by mission.
We'll never be done learning, teaching, and obeying.
And what has Jesus commanded?
What is it we are meant to learn, teach, and obey?
Again, a lot.
Four entire books were written on Jesus' teaching called Matthew, Mark, Luke, and John.
There are 23 other books that expound and apply the teaching found in those four books.
Furthermore, Jesus' teaching itself reflects on and applies the teaching in the thirty-nine books He had a hand in writing at the time (which we call the Old Testament).
He is the fulfillment of the Old Testament.
You have to understand the Old Testament to truly understand the New Testament and to obey all Jesus commanded you must understand both…which is a life time process.
Yet Jesus said that God's law (and therefore His teaching) could be summarized in the following: 'Love the Lord your God with all your heart and with all your soul and with all your mind.' This is the first and greatest commandment. And the second is like it: 'Love your neighbor as yourself.' (Matthew 22:37-39).
Jesus offered plenty of specific commands to unpack what this looks like.
We are to pray, and fast, and give; seek, hear, believe, and enter.
In addition to loving our neighbors we are to love our enemies and pray for them, even sacrificing for them.
We are to take special care of strangers, travelers, widows, orphans, and anyone who is vulnerable and in need.
If anyone is sick, hungry, thirsty, in need of shelter or clothes, or in prison, we must take care of those people specifically, as faithfully and tenderly as if they were Jesus Himself.
To be honest, these are not popular positions.
We tend to fear and demonize those in need, rather than provide and sacrifice for them.
If we're going to follow Jesus by knowing and obeying these commands and we're to teach them to others, I get the feeling He intends our entire lives and communities to be upended, disrupted, and reconfigured, don't you?
Just to be clear, this is not a checklist of things to do, this is a heart check to see if you even care about the same things Jesus cares about.
The making of disciples is Jesus' means for answering the prayer, "Our Father in heaven, hallowed be Your name, Your kingdom come, Your will be done on earth as it is in heaven" (Matthew 6:9-10). 
In His infinite wisdom, Jesus chose to use dedicated followers, His disciples, to carry the message of salvation to all peoples of the world.
He included this as a command in His last words before His ascension to heaven
Jesus tells us to make disciples.
HE SAYS BAPTIZE THEM
HE SAYS TO TEACH THEM TO OBEY EVERYTHING I HAVE COMMANDED YOU
So how do we live out this Great Commission?
Our mission is lived through actions.
When I was first introduced to the Great Commission I always thought the word go was the command, but I have discovered that this is only a present participle the command in the text is the "make disciples" and this text is better understood, "while you are on your way going, teach anyone you come in contact with."
No matter were we are: work, school, shopping center, sporting events, in our homes-we are to be a witness for Christ.
Today, the term disciples seems like a term thrown around to impress others, but this is what we as a leadership desire to do today and in the future, make disciples.
This term disciple is what the early church called their followers, but it denotes more of an attitude of an apprentice and not merely a convert or a church member.
An apprentice is one who follows closely to his teacher's teachings.
An apprentice also identified with his teacher, learned from him and even lived with him.
It was a very close relationship that harnessed the will of the student unto that of the teacher.
So what does it mean to be a disciple?
I like the way Warren Wiersbe says it.
"A disciple, then, is one who has believed on Jesus Christ and expressed this faith by being baptized. He remains in the fellowship of the believers that he might be taught the truths of the faith (Acts 2:41–47). He is then able to go out and win others and teach them. This was the pattern of the New Testament church (2 Tim. 2:1–2).
In many respects, we have departed from this pattern. In most churches, the congregation pays the pastor to preach, win the lost, and build up the saved—while the church members function as cheerleaders (if they are enthusiastic) or spectators. The "converts" are won, baptized, and given the right hand of fellowship, then they join the other spectators. How much faster our churches would grow, and how much stronger and happier our church members would be, if each one were discipling another believer."
This is why we want to help you discover your God given passion and gifts to unleash you on the community to be strategic in everything we do.  CHIP INGRAM GIFTS STUDY
One last thing I want you to notice with me, see the statement in vs. 20" I am with you always to the end of the age" this is a blessed hope that is not designed as a sedative to an inactive mind and complacent conscience, but an incentive to the fullest endeavor to press on to the farthest limits of the world that all the nations may know Christ and the power of his Risen Life.
So Matthew's Gospel closes in a blaze of glory.
Christ is conqueror.
Christian history from that eventful experience on the Mountain in Galilee has been the fulfillment of that promise in as far as we allow God's power to work in us for the winning of the world to Christ, who is with his people all the time.
Jesus employs the prophetic present here (εἰμι [eimi], I am). 
He is with us all the days till he comes in glory.
So how do we live out this mission statement, this Great Commission
By TRANSFORMING PEOPLE TO CHRIST-LIKENESS.