Sunday Morning Basics Classes 2018

A yearlong course consisting of four different classes intentionally equipping us in our everyday journey with Jesus.
Jesus 101: 3.4 – 5.20   
A necessary class for Jesus followers, this class introduces the birth, life, ministry, death, burial, resurrection, and ascension of Jesus the Messiah while challenging us to wrestle with the question Jesus asked, "Who do you say I am?"
How to Study Your Bible: 6.3 – 8.19   
Have you been wanting to strengthen your Bible study skills and learn how to navigate God's Word with intentionality? If so, then join us.
Cover to Cover: 9.2 – 11.18   
The course helps make sense of the big picture of the Bible beginning in Genesis and going through Revelation.
Blueprint for Life: 12.2 – 2.17.2019   
In this class, participants will build a guide containing goals and action steps for five key areas of life: spiritual, relational, physical, financial, and career.
Sunday Morning Electives 12.2 – 2.17

Quarterly, we offer classes focusing on books of the Bible and topics of discipleship. Classes are announced ahead of the new quarter, so you can plan on which class to attend.
Mingling of Souls:
The Mingling of Souls will forever change how you view – and approach – love. Mingling of Souls offers an eternal, counter-intuitive perspective from the biblical book Song of Solomon.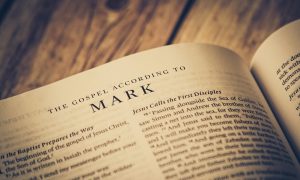 The Book of Mark
Author and speaker Francis Chan invites us to walk with him along the ancient ways of the Master.
Other Electives

We provide other opportunities for education through out the year at various times and various days.
Mingling of Souls:
Precepts: Hebrews pt. 1, Consider Jesus, Your Merciful High Priest
Wednesday's 9 – 10:30am Fellowship Hall starting 9.19.18
In these last days, God has spoken to us in His Son. What does He say about Jesus, angels, and our great salvation? Learn about Jesus' superiority to all in this exciting study of Hebrews 1- 4 that enlightens and enlivens Old Testament law and prophecy.
Jesus The One and Only
Thursday's  6:30-8pm Fellowship Hall starting 9.20.18
An 11-Session Study from Beth Moore based primarily on the Book of Luke, this study is a careful examination of the life of Christ. You will be introduced to to an intimate Savior as you get a close-up and personal portrait of the life of Jesus the Messiah.